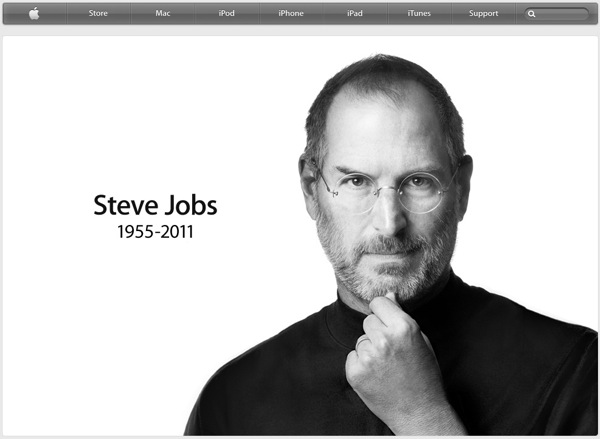 Steve Jobs, a founder of Apple Computer, died yesterday, at the young age of 56. I have respected him since I first marveled at lisp running on "this little toy computer", as I ran Coral Common Lisp on my Mac Plus in 1989. I have owned a IIcx, IIci, IIfx, two iMacs, and three iPhones since then. And I have always loved Steve's dedication to making "insanely great" products. The image above is from the home page at apple.com. Full resolution version here. Apple has a dedication page at apple.com/stevejobs:
Steve Jobs

1955-2011

Apple has lost a visionary and creative genius, and the world has lost an amazing human being.
Those of us who have been fortunate enough to know and work with Steve have lost a dear friend
and an inspiring mentor. Steve leaves behind a company that only he could have built,
and his spirit will forever be the foundation of Apple.

If you would like to share your thoughts, memories, and condolences, please email rememberingsteve@apple.com
YouTube video of Steve Jobs reading "The Crazy Ones", which Richard Dreyfuss read in one of the "Think Different" commercials. "While some may see them as the crazy ones, we see genius. Because the ones who are crazy enough to think they can change the world are the ones who do." Thank you, Steve Jobs, for changing the world.
Stories of note: