Submitted by Bill St. Clair on Fri, 07 Oct 2005 12:00:00 GMT
From
clairefiles
: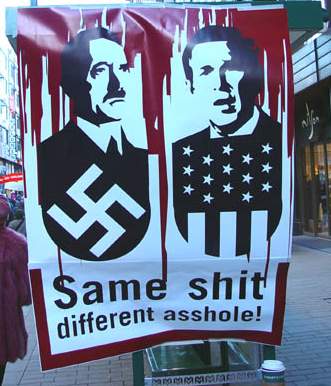 John DeWitt
said
about this:
Oh, nonsense. There's no comparison.

The Nazis invaded other nations for no cause or trumped up causes. They slaughtered innocents for idealogical or ethnic grievances. They militarized their portion of the world, and formed alliances with some of the most vile and repressive regimes on earth, other than themselves. They formed and broke sham treaties. They imprisoned and tortured people without recourse. They ignored international conventions of decency. They...

Oh. Wait.

Never mind.
# Peggy Noonan at Opinion Journal - The Scofflaw Swimmer - authority trumps responsibility in Galveston, Texas. Freedom implies the freedom to be crazy, as long as you don't hurt a non-consenting other. But Amerikans are no longer free. [advocates]
The day before hurricane Rita hit Texas, last Friday, I saw on TV something that disturbed me. It was not the usual scene of crashing waves and hardy reporters being blown sideways by wind gusts. It was a fat Texas guy swimming in the waves off Galveston. He'd apparently decided the high surf was a good thing to jump into, so he went for a prehurricane swim. Two cops saw him, waded into the surf and arrested him. When I saw it the guy was standing there in orange trunks being astonished as the cops put handcuffs on him and hauled him away.
# Loretta Nall at The U.S. Marijuana Party - A Long Walk To Freedom - Ms. Nall thanks her supporters and states her intent to walk across Alabama as part of her campaign for governor. [loretta]
# Henshawe at The Claire Files Forums - A Modern Feudal State: America - think you live in a Republic or a Democracy? Think again. [clairefiles]
The King owns all life, everything... The first American Revolution was fought to throw off the shackles of the King. During the past 229 years the king has restored his ownership, authority, and coercive power - and much more. The time has now come to fight the second American Revolution to again throw off the shackles of the King and to restore the freedom and sovereignty of the individual.
# Becky Akers at LewRockwell.com - Waco Reprise - forty cops manage to flush one old man from his house using 75 canisters of CS-14 tear gas. You know, the stuff they used to roast the Branch Davidians in Waco. I guess I should be thankful the fuck toads didn't kill him. [lew]